MIT Pune to host International Robocon 2014
Date: 24th August, 2014 Venue : Balewadi, Pune, Maharashtra (India)
Electronics Maker Partners with Robocon and offers FREE Distribution of August issue to all participants and will give 1000 complementary subscription to engineers…

No country can hope to remain prosperous and healthy without reinvesting a substantial portion of its wealth in science and technology and we can't neglect Robotics field bringing the innovation.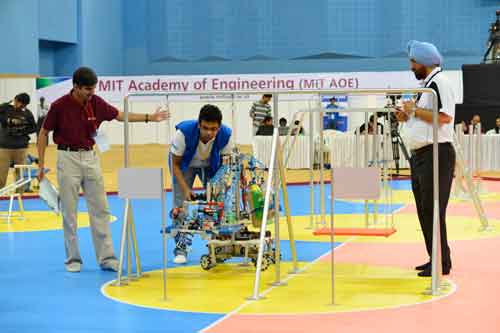 Robotics opens up a plethora of opportunities for both entrepreneurs and students. industries across a range of sectors such as automotive, atomic energy, defence, space, metals, textiles and manufacturing use Robotic technologies very extensively. Robots are required everywhere to improve productivity. They are also being used in operation theatres and rehabilitation centres to augment the quality of life. Developed countries like Japan and America have been using robots to clean rooms, entertain etc. It is an ever growing field and many avenues have opened up in recent past. Therefore students who have the required skill sets will be favoured by such industries. Using such technology, the quality of products and processes improve considerably.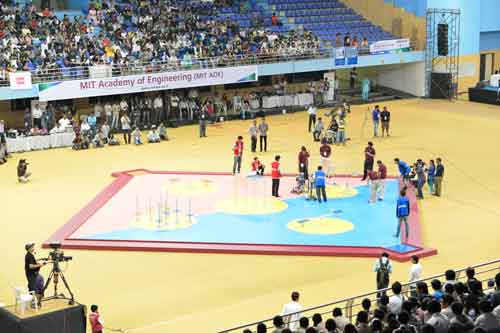 Robocon is one of the biggest international Robotics competition organized by Asia Pacific Broadcasting brings together enthusiastic in science and engineering  field from all Asia countries to develop their creativity, design and problem solving skill through challenging and educational robot competitions and activities. 18 different Asian countries are members of ABU participate in the Contest.
Doordarshan is a member of ABU and is the main organizer of Robocon in India. Doordarshan has collaborated with MIT in 2005. Till date MIT Group is integral part of Robocon . Every year the theme is decided by the Host Country for ROBOCON and all participating teams have to build their Robots based on the specified theme and on the final day of the event these robots have to compete with the remaining teams for the trophy. This year MITAOE (India) along With Doordarshan (DD) is hosting International Robocon where Theme is – "A Salute To Parenthood" . The National winners of 16 different Asian countries will travel to India for the ABU ROBOCON International Contest on 24th August 2014 at Pune. Being a host country India can participate two teams for the international contest 'Winner and Runner up ' of the national contest.  Winner  Team- Nirama Institute of Technology, Ahmadabad  And , Runner up team – Veer Jijamata Technological Institute (VJTI) , Mumbai of National Roboocn 2014 will represent India  internationally on 24th August 2014 at Pune. Every year more than 2,000 engineering students (nearly 100 teams) from all over India from all IIT's, NIT's, REC's and other well known engineering colleges participate at the National Robocon. The next year's ABU Robocon will be held in Indonesia. The contest theme is Badminton. The details of the contest rules will be announced on the official website of the Robocon 2015 Indonesia on Monday, August 25 2014. For more Details visit at www.roboconindia.com
Advertisement