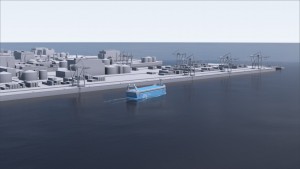 The world's first autonomous, zero-emissions cargo ship is in the middle of being developed, and is set to sail on its maiden voyage by 2018.
It is being developed by two Norwegian companies, aerospace experts Kongsberg and chemical company Yara. The purpose of the ship is to bring and transport fertilizer between different ports in Norway, and the goal is to be able to cut down on car and truck emissions during these transports. The ship, named Yara Birkeland, will be powered fully by electricity, and it is hopefully going to help the United Nations carry out and meet their environmental sustainability goals.
Svein Tore Holsether, president and CEO of Yara, explains to De Zeen exactly how the ship can help meet these ambitious goals.
Every day, more than 100 diesel truck journeys are needed to transport products from Yara's Porsgrunn plant to ports in Brevik and Larvik where we ship products to customers around the world. With this new autonomous battery-driven container vessel we move transport from road to sea and thereby reduce noise and dust emissions, improve the safety of local roads, and reduce NOx and CO2 emissions.
Yara and Kongsberg hope that their creation will inspire other businesses to consider using transportation via boats. Currently, there are seven main types of cargo ships, but an autonomous, electric ship is a major innovation in the industry. In fact, the boat has the potential to save about 90% in operating costs, considering there is no need for a crew or fuel costs.
Yara Birkeland will cost about $25 million dollars and will be three times the size of a standard container ship. The engineers plan for the ship to run on remote automation in 2019, and believe it will be fully autonomous by 2020.
But, this isn't the only cargo ship making headlines. German firm Sailing Cargo has recently released their plans to develop the world's largest cargo sailing ship, which has the capacity to carry 2,000 cars. Known as the Quadriga, the ship will be 558-feet-long and will sail at around 10 and 12 knots.
The vessel will run on a mixture of hybrid propulsion with sails and diesel-electric engines. It will also have an optional electric battery system. Just like the Yara Birkeland, the Quadriga is being developed as a way to reach the Paris Agreement's low emissions requirements.