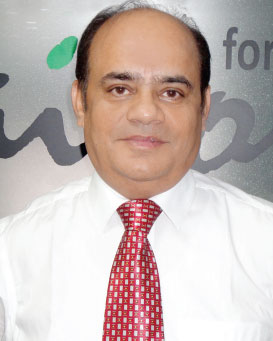 Mr. Puneet Shukla, CEO, Saison Components & Solutions shares outlook of 2017 and insights on 2018 market and new trends.
What is the best part of year 2017 according to you?
The best part for us was to stabilize facing the challenges put up the government such as introduction of GST, introduce bidding in different industries such as Power Industry by the energy meter tender bidding & Renewable Industry (reverse bidding for allocation of projects under SECI). These initiates by the government shook different industries and to stabilize in this situation was a big challenge.
Saison's cost competitive components helped the manufactures bid a low price without compromising on the quality of the product in the different phases of bidding.
Brief on Govt new upcoming initiatives and share your views on that?
As talked about in the precious question, major initiative took by the government is the GST.
Majority of the people agree for it being a good intended initiative for the country in the long run.
It has and will help in eliminating unfair trade practises like under invoicing which were being carried out in the past, thus making a fair competition in the Indian business.
Other initiatives like, introduction of the cost competitive bidding system will give a chance to the Indian manufacturers prove their strength by supplying quality product at a competitive price.
Talking about the wind industry, earlier, electricity distribution companies (most of which are owned by state governments) would sign power purchase agreements (PPAs) with wind energy companies on the basis of 'feed-in tariffs' fixed by the respective state's electricity regulatory commission. These FiTs used be in the neighbourhood of 5 per kWhr. Armed with the PPAs, the energy companies would put up wind power projects, placing orders on turbine manufacturers.
In February, the Union government came out with 'tariff-based competitive bidding', auctioning 1,000 MW of capacity through SECI. Wind energy companies that offered to sell at the cheapest prices would get to sign PPAs, and then set up wind power plants. Because of competition, the tariff fell to a low of 2.64 per kWhr.
Similarly, in the metering industry, EESL floated tenders for the energy meter which again gave an opportunity to the manufacturers and the component suppliers to prove their cost competitiveness in the market.
It may have created instability in the industry for some time but for the long run it may be beneficial as it will give a clear picture to every manufacturer based on their bidding in different phases and to the suppliers to offer cost based on volumes.
It will also give an opportunity for companies like Saison to offer quality products at the asked price and prove itself.
According to you what is the market outlook this year?
This year was a bit unstable because of the demonetization followed by introduction of GST which was to bring the different industries on the same platform and to encourage fair working of business.
What you will predict for year 2018?
Considering the initiatives and activeness of the government, coming year should be good for the industries such as renewable, automotive, automotive and lighting.
Saison feel strong and confident enough to play an important role as a supplier to the upcoming industries because of its quality and cost competitive products such as super capacitors, inductors, batteries, MOV's and many more.
Governments recently floated tenders of energy meter (by EESL), wind projects (by SECI) and electric vehicle (by EESL) shows its aggressiveness and paints a clear picture of the coming years industrial growth.
New trends and technologies that will influence in 2018.
As per our PM Modi's vision of digital India, clean India and smart India the technologies that will influence can be easily guessed such as digitalization which is via campaign launched by the government of India to ensure that government services are made available to citizens electronically by improved online infrastructure and by increasing internet connectivity. Introduction of handheld devices in shopping malls, buses, retail shops etc. are some of examples of the developing digital India.
Saison is also supplying components to the handheld device manufacturers and thus contributing to the industry.
Clean India, by adopting and encouraging the use of electric vehicles rather than diesel or petrol vehicles which can be seen by the tender being floated by EESL for the supply of electric vehicles.
Smart India focuses on development of smart cities and implementing its infrastructure.
EESL has already floated tender for 5 Million meters and is about to release another of 10 Million.
Other than these, IOT is also an emerging and future industry which will change the way things work in a corporate office or at home.
Saison pledges to give its best to the different industries by supplying quality and cost competitive components.